Executive Producer/Judge "America's Next Top Model"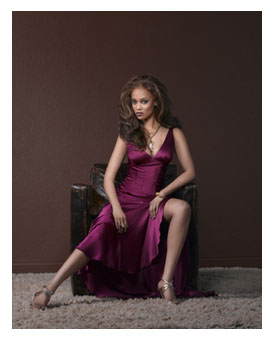 When America watches television, it's hard to miss the triple-threat talent of fashion and cultural icon Tyra Banks. Banks is the creator, host and executive producer of "America's Next Top Model," the hit reality TV sensation currently filming another new season. She is also the creator, host and executive producer of the hit daytime syndicated talk show "The Tyra Banks Show." Tyra is a woman with passion and a vision to create change. In Tyra's words: "It's important to make people feel good, to show compassion, to be uplifting and to help people expand their horizons. We should encourage people, discover new talent and creativity, and give people a chance to realize their full potential. And finally, we want to provide people with an escape and help them find joy." Tyra strives to create a business that provides people with ways to demonstrate their unique capabilities. Tyra not only talks the talk, she walks the walk, proving by example with her many accomplishments.
Recently, Time Magazine dubbed Tyra Banks a "Supermogul with a Business Model" when they placed her on the prestigious 2006 list of "100 People Who Shape Our World." Soon thereafter, Forbes Magazine profiled Tyra for their "Celebrity 100" list. She is regarded not only as a groundbreaking, international fashion and entertainment icon, Tyra Banks and her business empire have confirmed her as a modern day Renaissance woman.
There is no trick to her success, it is a product of her drive, focus and production savvy. She is involved in every step of the production process: crafting stories, getting to know her guests and models and working in the editing bay to make sure the final product is up to her high standards. Tyra works to push far beyond average expectations and uses her creative ingenuity to present fresh, inspiring shows to viewers.
Tyra has broken barriers with her long list of career "firsts." Over the course of her distinguished modeling career, Tyra became the first African-American model to grace the covers of GQ, for which she was also named "Woman of the Year 2000," Sports Illustrated's Swimsuit Issue, a feat she later repeated, and the cover of the famed Victoria's Secret catalog. She was the first black woman to sign a contract with Sports Illustrated magazine and the first black woman on the cover of the magazine's Swimsuit issue.
A renowned fashion model and recipient of the prestigious Michael Award for "Supermodel of the Year," the fashion industry equivalent of the Oscar™, Tyra has previously held a 5-year contract with Cover Girl cosmetics and had a long-term contract with Victoria's Secret, celebrating her tenth anniversary with the company in fall 2005. After a long and illustrious modeling career, Tyra made the decision to leave the modeling world and move on to bigger projects. Ten million viewers watched as Victoria's Secret paid tribute to her in a special TV send-off commemorating her official retirement from the runway.
Under her production banner Bankable Productions, established in 2003, Tyra executive produces "The Tyra Banks Show" and "America's Next Top Model." "Top Model" is produced in conjunction with 10 by 10 Entertainment and was UPN's most-watched show for six cycles. "Top Model" was chosen to launch the brand new CW Network and had the best premiere ever in the 18-34 demographic and one of the largest viewing audiences in the shows' history.
"The Tyra Banks Show" is produced in conjunction with Handprint Entertainment and Telepictures Productions and distributed by Warner Brothers Television. The show debuted in the fall of 2005 and is currently in its second season; a feat achieved by only ten percent of new talk shows. In its freshman year, "The Tyra Banks Show" scored the highest ratings in first-run syndication in the coveted 18 – 34 female demographic, capturing the youngest audience in daytime talk and out-delivering established talk shows such as "The View," "Live with Regis and Kelly," and "Good Morning America." The five-day-a-week program is specifically targeted to entertain and offer the "everywoman" insight into the issues facing young women today.
Bankable Productions is actively developing additional television shows and feature films. Tyra and company strive to create mass appeal entertainment for all ages, developing material with strong, empowered female characters. Tyra hopes to showcase the journeys women take to find empowerment with an intelligent, sophisticated and humorous sensibility, while blurring racial and social stereotypes.
In motion pictures, Tyra worked with director John Singleton in his critically acclaimed film, "Higher Learning," and also featured in the Jerry Bruckheimer-produced hit "Coyote Ugly." On television, Tyra had great small-screen success with the "Wonderful World of Disney" hit movie "Life-Size" with Lindsay Lohan.
Equally important to Tyra is her dedication to today's youth. Tyra expanded her charitable outreach in July 2000 when her self-funded foundation sponsored the first year of TZONE, an annual summer camp experience for teenage girls designed to enhance independence and self-esteem. TZONE will transition into an organization that will build a sisterhood movement by raising funds and making grants to nonprofits that serve low-income women and girls and foster supportive female relationships through innovative programs and services. For more information on TZONE, visit the website at www.tzonefoundation.com.
The Tyra Banks Scholarship was established in 1992 to fund grants that give African-American girls the opportunity to attend Banks' alma mater, Immaculate Heart High School. After writing Tyra's Beauty Inside & Out (HarperCollins), Tyra realized that the trials she overcame as a teen could be used to connect with girls who struggle with self-esteem issues. Tyra is currently working on realizing her dream of sharing TZONE with young girls across the country through her talk show platform, "The Tyra Banks Show."
Tyra Banks is single, and resides in Los Angeles, California.